The Natural History Museums of Los Angeles County (NHMLAC) take pride in our passionate, dedicated, and diverse employees.
As NHMLAC initiatives continue to expand in fulfillment of our vision, we are constantly searching for new talent to join our three museums—the Natural History Museum, La Brea Tar Pits, and the William S. Hart Museum.
Opportunities at our museums vary from entry level to executive, from interfacing with our guests or educating students, to building our walls, or researching in the field, and include many positions that are an exciting mix of everything in between. As we begin to grow and expand our reach throughout the Los Angeles community, our museums have partnered with various schools to provide opportunities with internships, work study, and volunteer programs.
The museums welcome applicants of every identity, background, and community, and desire employees who are invested in contributing their abilities toward inspiring wonder, discovery, and responsibility for our natural and cultural worlds.
 
We offer competitive compensation and a variety of benefits and perks to its eligible employees, including:
Medical, Dental, and Vision

403(b) Retirement Account with Employer Match

Vacation and Holidays

Flexible Spending Accounts

Group and Supplementary Life Insurance

Accidental and Critical Illness Insurance

Employee Assistance Program

Travel Assistance

United Pet Care Membership

On-Site Fitness Classes

Commuter Program

USC Credit Union

Free Membership to the American Alliance of Museums

Free Entry to Participating Museums

20% Discounts to the NHM Grill and Museum Stores

Discounts on Theme Park, Movie and Theater Tickets, Hotels, Rental Cars, and More!
We strongly believe in cultivating an inclusive environment where all staff are treated with compassion and dignity, and are encouraged to express their beliefs in order to create a more thoughtful and authentic organization.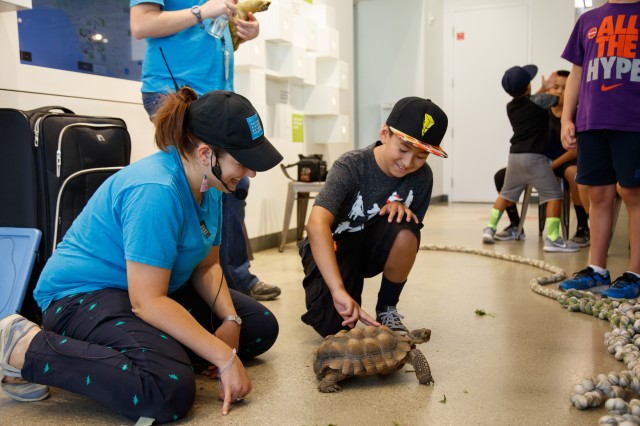 Our museums have a strong sense of purpose, and I am so proud to be a part of that.
How to Apply
Please visit the Career page of the museum location(s) you are interested in. There you will see a list of open positions for which you can submit your resume and complete the initial employment application online.
Please note, in an effort to better conserve our natural resources, we will only accept online applications at this time.
Thank you for your interest!
---
NHMLAC is an Equal Opportunity Employer and is committed to diversity in its workforce.
NHMLAC is seeking applicants who have demonstrated experience and commitment in working with a diverse community.
Contact jobs@nhm.org for any inquiries on the application process. Please keep in mind we are unable to provide updates on applications for certain positions.