Wild L.A.
Take a walk on the Wild (L.A.) side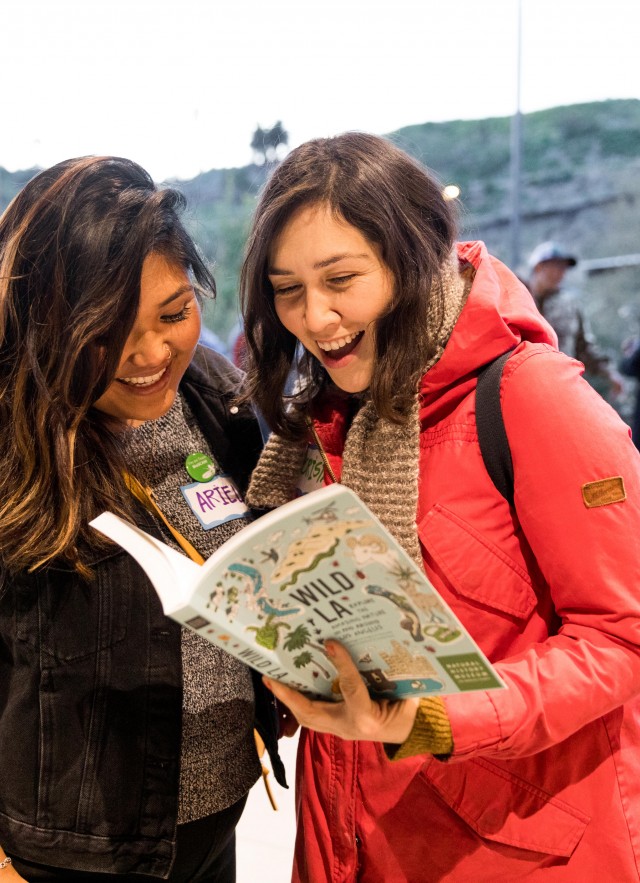 There are guidebooks for seasoned hikers. There are thick field guides for experienced naturalists. But the Natural History Museum of Los Angeles County wanted to create a book that everybody could use — a book that could convince people there was fascinating nature around us in L.A. and that it was for them. Wild L.A.: Explore the Amazing Nature in and Around Los Angeles, hitting shelves (and digital shelves) this Spring, fulfills those goals.
The journey to completing the book started five years ago as NHM was beginning to move away from looking primarily at the past, and transforming into a museum of living nature that instead used the past to look at the present. We turned parking lots and concrete into the 3.5-acre Nature Gardens and opened the Nature Lab in 2013. We worked hard to convince people that L.A. had plenty of biodiversity (our incredible range of plants, animals, fungi, and slime molds).
This travel companion will shed new light on all that flourishes and lowers, or creeps and crawls in the vast urban-yet-still-wild sprawl of the city and surrounding area

- Publishers Weekly 
This idea — that there was urban nature worth exploring and researching — became a guiding principle. We created our very own Community Science Department and later the Urban Nature Research Center (UNRC). Both groups designed events and research initiatives in which volunteers from the public strengthened our scientists' work by collecting and analyzing data (from areas too vast, or private, for scientists to explore themselves). Participants got to know L.A. nature better, collaborated with scientists, and sometimes co-authored scientific publications. But something bigger was happening too — we were promoting the belief that science was for everybody.
Our new book continues that charge. Wild L.A. was co-written by four eclectic people: NHM Community Science Senior Manager Lila Higgins, NHM Herpetology Curator and UNRC Co-Director Greg Pauly, along with science journalist Jason Goldman and poet/naturalist Charles Hood.
It looks and sounds like the Nature Lab — a mix of illustrations and photography, and a treatment of big topics such as migration, re, and L.A.'s water story with personal, accessible language. And it certainly tries to act like the Nature Lab. It encourages people, even people with no seeming interest in venturing outside, that the exploration of nature is a fun, easy, enlightening endeavor.
"Lila and I were part of the team that developed Nature Lab, where we worked on communicating science topics with accessible and experiential stories. It's an approach that works," says Pauly. "We live in a place with amazing nature. And with so much change due to the rapid growth of agriculture and then urban development, every species here has an amazing story to tell."
The book begins with 10 short chapters focused on major themes that structure which species are found in the L.A. area. Even for experienced naturalists, we think there will be new facts and insights. And for readers new to L.A. nature, the book contains more than 100 short species accounts that describe local plants and animals, tell a few of their most compelling stories, and most importantly, contain easy ways to identify them outside. Then, it's time to explore. The last section contains 25 descriptions of local parks and nature areas. We spent a lot of time visiting and choosing these; we wanted a diversity of habitats and a range of accessibility at the sites, from easy walks to slightly more intense hikes.
"Many of us think that nature is something that is far away, that we have to make a special trip to discover," says Higgins. "We hope this book changes people's minds about that and inspires them to protect and nurture nature in our city."
Get your copy today! Museum Members receive a 10% discount.