A Gamer at Hart
An evening pastime at the house of William S. Hart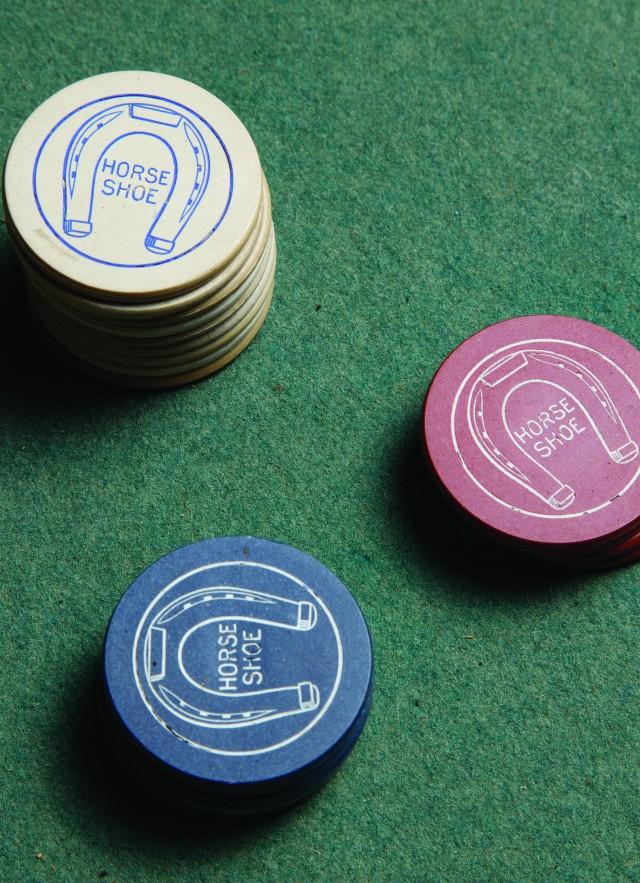 A deceptive accessibility permeates the William S. Hart Museum; so much of the man's character comes through in the house's design and décor, his body of films, and his 11 books (including an autobiography).
But what kind of gamer was he? It's a surprisingly difficult question to answer with any certainty.
Even among Hart's eclectic and curious belongings, his cribbage board stands out. Scrimshawed into two feet of walrus tusk, the board depicts the arctic scenery of a Jack London novel: a polar bear and walrus at the base and two seals at its tip. The dogsled in the center would have tracked the movement of the pegs, adding an element of drama to the game. Though there's no record of him having used the cribbage board, it's easy to imagine Hart passing the time with Wyatt Earp, Bat Masterson, or Will Rogers — just a handful of contemporaneous celebrities whom Hart considered friends.
A box of cards now displayed at his bedside reads " Hart's Crown no. 444", perhaps inspiring Hart to have these monogrammed playing cards printed. Trimmed with green, the gold back is cut with purple pines and silhouettes of cowboys. The initials W.H.S. decorate the upper left side in the shape of a diamond. 
As with the cribbage board, the image of Hart playing Texas Hold 'Em at the poker table with other luminaries of the West comes easily to mind. Did he ever peer over his hand at Amelia Earhart across the table, take her measure, and call? The gaming tables, custom cards, and chips are on display in the Ranch House, and the tables are memorabilia from the film The Cold Deck, where Hart plays a gambler trying to win enough money for his sister's medical care, further confusing the image of Hart the character with the actual man. It's this tantalizing closeness and impassable distance that make the Hart Museum so special.