Angelenos Building Community: Celebrating Pastor Donavan Childs
Reflections on L.A. History: A Mexican Perspective mural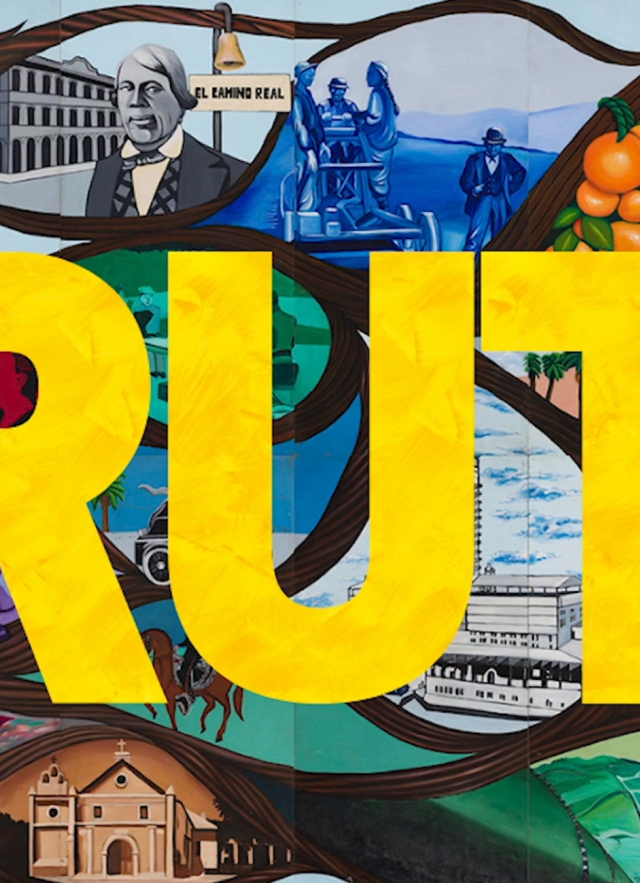 Recognizing our past propels us into the future
Join Pastor Donavan Childs, a community partner of NHMLAC, as he reflects on the complex history behind L.A. History: A Mexican Perspective, which from his point is of view a superdopalicous mural! This iconic mural, by Chicana artist Barbara Carrasco, reminds us that our past struggles define our collective history and should not be omitted from the history books. Pastor Childs' reflection video welcomes us to paint our history as it is, because the good, the bad, and the ugly of history challenges us to reflect on our struggles, dance in our diversity, and propel us into the future. 
Meet Pastor DONAVAN Childs
Donavan Childs is the Associate Pastor of the University Seventh-day Adventist Church on the corner of Martin Luther King Blvd and Budlong Avenue and volunteers as a religious director for the Adventist Christian Fellowship group on the campus of USC. He likes writing, performing, and eating. He has a beautiful family, complete with a lovely wife and three awesome kids. Before pastoring a congregation, he served as a missionary in South Korea and a university chaplain.
Donavan has a Masters of Divinity degree that he uses to fuel his creative ministry with sound theological thinking. He is also a content creator under the name @dondeez most active on Instagram, YouTube, and TikTok. Whether it's funny skits, spoken word, raps, public speaking, motivational talks, or simple reflective thoughts, his goal is to live life in response to the God of grace who will do any and everything to be with us!
University Seventh-day Adventist Church is a Community Partner of NHM (What's this? Learn more).
Carrasco's mural is about the past struggles and successes that the diverse community of L.A. has experienced. How do you connect the past and present in your work?
The main idea of my reflective video is that "the past prepares you for the present and propels you to the future." That has been the truth of my life. For me, my history is rooted in faith and family. My family taught me values, morals, and practices that shape me to this day. They taught me to have faith in God and trained me to maintain a love for learning. As a result, I have lived a good life with great experiences and amazing relationships. As a pastor, I do this by sharing lessons from my past and present experiences and using that to influence and inspire those that I minister to in my congregation and audience online.
In a time of social distancing, how do you maintain a sense of community and resilience, even while we are apart? 
For me, it's about creating intentional connections. I do all I can to tap into the collective vibes of the city. By "vibes," I mean that sense of L.A. pride all Angelenos carry. There's a "game recognize game" acknowledgment for the realities of life in L.A. Almost every type of person you can think of rests at the Martin Luther King Blvd and Budlong Avenue bus stop in front of our church. They may be waiting for the bus or catching a breath between blocks. When I catch them on the corner, I hit them with a simple nod. That one gesture says, "I see you, and I respect your hustle." When I see them the next time, we talk. That's how I create community. 
The pandemic has thrown some heavy punches, but we as a church have committed to serving those surrounding us in the best ways possible through our community service ministries. We continue to do all we can to empower our community through our weekly food bank program and holiday family giveaways. We believe God calls us to do this, to extend the love and grace that has been given to us. We exist to bless others and to facilitate unity in our community.
Carrasco's mural joins many different Los Angeles communities in her artwork. How are you able to connect different communities through your work?
One of the first things I did when I began to serve at the University SDA church was learning the community's history. One thing that stood out was a change in residents of the community. In the past, the neighborhood was predominantly African-American, and therefore our congregation was majority African-American and Black. Over time, the neighborhood changed, and we had mostly Latinx families in the community. Usually, when this occurs in our churches, the practice has been to have each cultural group conduct separate worship services; however, we were very intentional about staying together. We work to incorporate parts of the service that represent all the cultures present, and we have translation services available to bring access. We practice in the congregation what we wish to present in the community. When people see our church members working together, we hope it embodies our unity.
Where do you go to recharge or connect with your community in Los Angeles?
I love to eat, and I love to connect with young people. My favorite way of connecting and recharging is to hit up one of the local food spots. I also serve as one of the USC religious directors, so I enjoy hanging out with the USC students in our small group sessions or going to talks, presentations, and concerts around campus. Sometimes it's as simple as grabbing a sandwich and taking my kiddos for a peaceful picnic just outside on the lawn in front of the Natural History Museum.