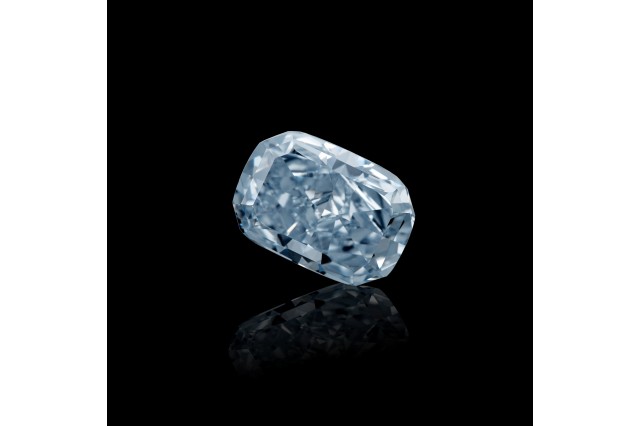 Robert Procop, courtesy of the Natural History Museum of Los Angeles County (NHM).
Celeste Diamond (fancy-blue diamond)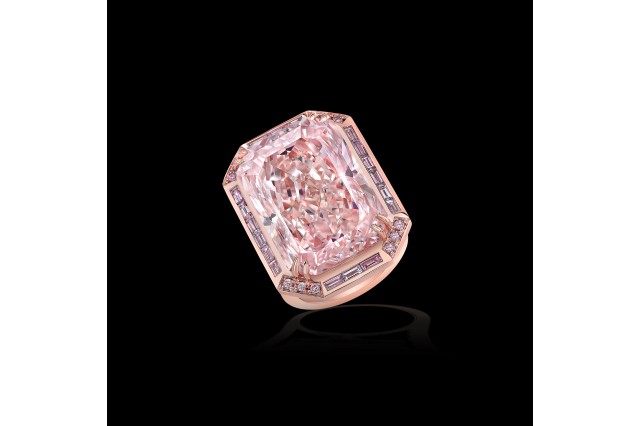 Robert Procop, courtesy of the Natural History Museum of Los Angeles County (NHM).
Pink Starburst ring (natural fancy-pink diamond)
Los Angeles, CA (November 29, 2021) – The Natural History Museums of Los Angeles County (NHMLAC) present the exhibition Brilliance: The Art and Science of Rare Jewels, on view from December 8, 2021 to February 21, 2022 at the Natural History Museum of Los Angeles County (NHM) in Exposition Park. Visitors to NHM will have the opportunity to view legendary gemstones, such as the Celeste Diamond and Pink Starburst, and see remarkable, one-of-a-kind works created by Robert Procop in collaboration with actor and humanitarian, Angelina Jolie and actor and philanthropist, Brooke Shields. Both Collections serve to raise funds that benefit women and children in need. This is the first time that many of these gems have been displayed together.
Brilliance features notable stones such as the Celeste Diamond, a 46.39ct fancy blue diamond; the 42.72ct Pink Starburst, the second largest pink diamond in the world; the Kasu Star, which, at 61.72ct, is one of the largest round, brilliant-cut yellow diamonds in the world; the Northern Light Diamond, which is the largest green diamond in the world at 71.19ct; and the 108.03ct Blue Splendor of Ceylon, which is one of the finest and purest sapphires in the world.
These spectacular jewels will be displayed next to rough mineral specimens from Robert Procop and the Museum's own collection, allowing visitors to learn how these jewels tell a scientific story. The exhibition also includes a video featuring Dr. Aaron Celestian and Robert Procop discussing the science and art behind gemstones. Visitors will learn where gems come from and how they form; the type of research done with gems, including ways minerals can be used to solve problems like climate change, pollution, and disease; and how Robert Procop uses gems in his design practice.
Brilliance, which will take place in NHM's Gem and Mineral Hall and vault, demonstrates the breadth of Procop's work blending art with science to form exceptional creations. Visitors will see Robert Procop and Angelina Jolie's philanthropic Style of Jolie collection featuring emerald, green beryl, citrine gemstones, and black spinel in sleek architectural settings, including a five-row citrine bracelet that Jolie is donating to NHM's gem and mineral collection. The Zahara collection uses all-natural, ethically-sourced gemstones to create jewelry for mothers and daughters. The gem pendants were designed by Zahara Jolie-Pitt, working collaboratively with her mother Angelina Jolie and jeweler Robert Procop. Proceeds from the collection have benefited the Los Angeles-based House of Ruth Shelters, which provides transitional housing for battered women and children, and new pieces will be sold to support women's charities in Ethiopia. Procop's collaboration with Brooke Shields, Luminous by Brooke, features bracelets with sapphires and diamonds inspired by their shared interest in stargazing.
"NHMLAC's Mineral Science department, led by Curator Dr. Aaron Celestian, undertakes cutting-edge research using the extensive gem and mineral collection housed at NHM," said Dr. Lori Bettison-Varga, President and Director of NHMLAC. "These specimens help give our scientists a glimpse into the geologic past, while also helping to answer questions about the Earth's future. We are thrilled to have Procop's masterworks on display alongside NHM's spectacular objects, and to welcome visitors back to our vault this holiday season after nearly two years of closure."
"We are thrilled to have the chance to showcase these gems," said Dr. Aaron Celestian, NHM's curator of mineral sciences. "This exhibit highlights the splendor of Earth's depths and showcases incredible artistic vision and craftsmanship. Brilliance gives us a remarkable opportunity to explore the geology, physics, and chemistry of these stones, while appreciating their stunning beauty."
"I am truly honored to be a part of this great exhibition," said Robert Procop. "The earth continues to astound and enlighten me as I hunt for the world's greatest gems. Through this exhibition, Dr. Aaron Celestian has deepened my understanding and appreciation of science. He has further sparked my passion for discovery of all the beauty that this remarkable planet holds."
"I always love collaborating with Robert," said Brooke Shields. "We came up with this idea of honoring the sun and stars and the planets. It's a celebration, I think, of how connected it all is. I'm truly honored that the Natural History Museum has chosen our Luminous Grand Masterpiece bracelets to be part of the Brilliance exhibition."
"As a destination for science, nature and culture, the Natural History Museum of Los Angeles County (NHM) is the perfect place for this exhibition that showcases the beauty and science of precious gemstones, offering visitors from throughout the County a chance to learn about the benefits of gemological research," said Los Angeles County Supervisor Holly J. Mitchell.
Robert Procop is a Los Angeles-based master jeweler who has curated exceptional gems since the age of 16. Through his jewelry house—Robert Procop Exceptional Jewels—Procop selects rare and interesting gems and transforms them into intricate and impressive works of jewelry.
This exhibition was organized by the Natural History Museum of Los Angeles County in collaboration with Robert Procop Exceptional Jewels.
Free with Museum Admission. Entry to the Gem and Mineral Hall will be timed. Learn more at NHM.ORG/Brilliance
NHM Gem and Mineral Hall
The world-renowned, 6,000-square-foot Gem and Mineral Hall opened in 1978 and is one of the finest permanent exhibit halls of minerals, rocks, gems, ores, and meteorites in the world. The Hall houses a selection of the Museum's extensive collection — displaying more than 2,000 spectacular specimens within two large galleries — which as a whole includes more than 150,000 specimens and is the largest in the western United States.The Hall also features the new, transparent Mineral Science Lab, where the public can watch department staff work in a modern laboratory with cutting-edge instrumentation for mineral and geochemical sciences.
About the Natural History Museums of Los Angeles County
The Natural History Museums of Los Angeles County (NHMLAC) include the Natural History Museum in Exposition Park, La Brea Tar Pits in Hancock Park, and the William S. Hart Museum in Newhall. They operate under the collective vision to inspire wonder, discovery, and responsibility for our natural and cultural worlds. The museums hold one of the world's most extensive and valuable collections of natural and cultural history—more than 35 million objects. Using these collections for groundbreaking scientific and historical research, the museums also incorporate them into on- and offsite nature and culture exploration in L.A. neighborhoods, and a slate of community science programs—creating indoor-outdoor visitor experiences that explore the past, present, and future. Visit NHMLAC.ORG for adventure, education, and entertainment opportunities.