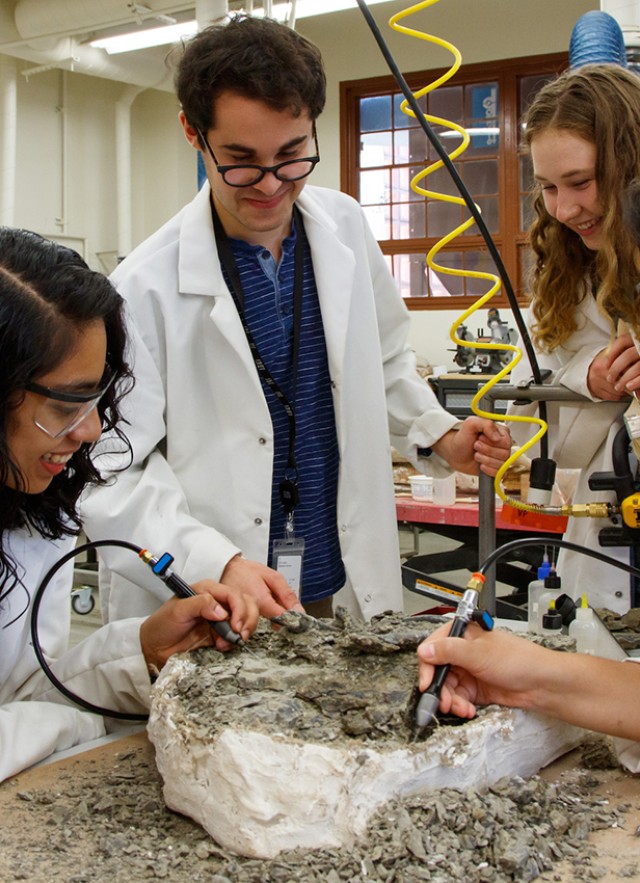 Foundation grants enable our museums to serve a diverse audience with compelling science and cultural programming and year-round access to our collections. 
Philanthropic contributions make a difference in the lives of hundreds of thousands of museum visitors and program participants, including some of the most underserved students and teachers in the nation. Whether supporting our robust educational programs, festivals and events—both "live" and virtual—, scientific research, community science, or timely exhibitions, the impact is significant.
By aligning our common interests, we offer foundations an opportunity to invest in the future of our community while helping to advance our mission to inspire wonder, discovery, and responsibility for our natural and cultural worlds. 
Engage youth in inclusive, science-based education and career training opportunities.
Support teacher development, critical classroom resources, and distance learning opportunities for L.A.'s most under-resourced districts. 
Expand community access, from free, in-person field trips to a new virtual model connecting thousands of students, teachers, and families to our museums online.
Underwrite the important research of our scientists and historians and advance knowledge for generations to come
Inspire joy through your philanthropy 
NHMLAC is grateful to the foundation community for supporting this important work. Recognition and naming opportunities are available for grants of greater scope and significance. 
Contact
To learn how our current funding opportunities might align with your organization's priorities, please contact Julie Gaeta, Corporate and Foundation Giving Director, at jgaeta@nhm.org or 213.763.3315.


The following funders generously provided annual support for our School and Teacher Programs and other special museum projects between July 1, 2019 and June 30, 2020. 
$100,000+
Annenberg Foundation
Getty Foundation 
The Goldhirsh Foundation  
Institute of Museum and Library Services 
The Kenneth T. and Eileen L. Norris Foundation 
Max H. Gluck Foundation  
National Endowment for the Humanities 
The Ralph M. Parsons Foundation 
Vera R. Campbell Foundation 
William Randolph Hearst Foundation
$50,000+
The Ahmanson Foundation 
BCM Foundation
City of Los Angeles Department of Cultural Affairs 
Flora L. Thornton Foundation 
John Randolph Haynes and Dora Haynes Foundation
$25,000+
Anonymous 
Dwight Stuart Youth Fund 
Quest Foundation  
S.L. Gimbel Foundation
Santa Monica/Westside Legacy Fund for Women and Girls 
Steinmetz Foundation 
Visionary Women 
$10,000+
Brad Lemons Foundation 
Ducommun and Gross Family Foundation 
Henry Mayo Newhall Foundation 
$5,000+
Acton Family Giving 
California Mental Health Services Authority
Ronus Foundation 
Sidney Stern Memorial Trust in memory of Betty S. and Marvin Hoffenberg