Adventures in Nature Connected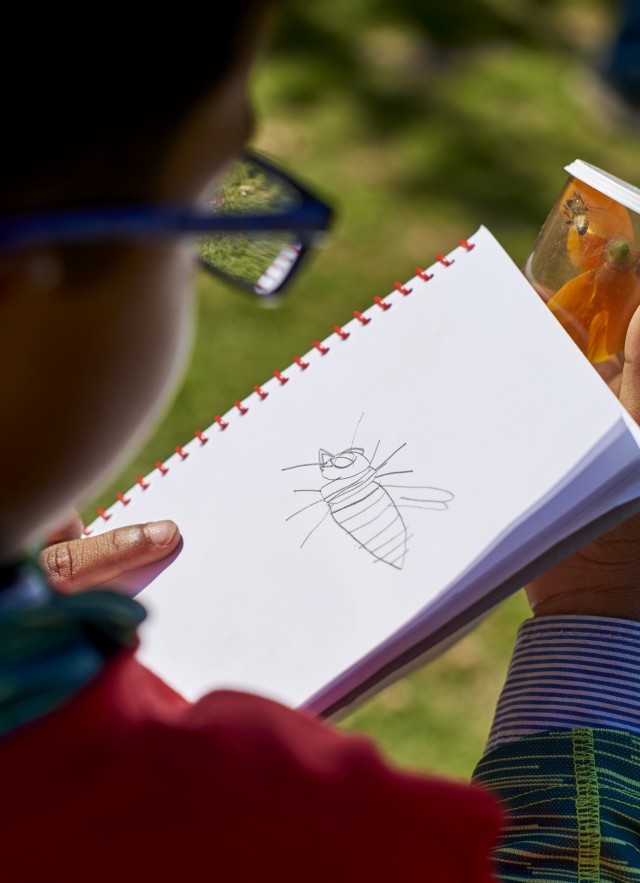 This summer, stay connected to adventure! 
Adventures in Nature is moving online, and we invite you to join us to explore exciting Museum topics— from dinosaurs to dire wolves, and alligator lizards to the creatures off our coast! Enroll your children in interactive virtual classes and they will learn about fascinating subjects that spark children's natural curiosity and creativity.
Registration is now closed. Please email info@nhm.org or call 213-763-3466 to be added to a waitlist.
We are excited to offer 4 sessions from July 6-30th. Each week, we will focus on a different theme: 
July 6–9  |  Dinosaurs! Dino Discoveries- Join us to imagine life for these giants of the past!
July 12–16  |  Wild L.A. City Safari- Explore the wildlife that calls Los Angeles "home"!
July 19–23  |  La Brea Tar Pits: Treasures of the Tar Pits- Explore the Ice Age by learning about fossils found at La Brea Tar Pits! 
July 26–30  | Oceans: Under the Sea- Dive deeper into the life off of our coasts! 
Each camp week will include the following types of engagement:
Monday- Friday: Virtual camp groups meet five times a week* in which camp staff lead a small group of kids (20 or less) in lessons and activities for 90 minutes. Parent supervision is not required. There is a 4-day virtual camp the week of July 6-9th due to the Independence Day weekend. 
At-Home-DIY activities kit that includes a workbook with activity instructions and activity materials for 5 days of engagement.  Campers can do these activities at their leisure and away from the computer screen with some parent involvement.
AIN Camp T-shirt for your Camper in sizes Youth Small-Large 
Time
10:00–11:30 am PST (90 minutes) (Kindergarten-2nd grade, 3rd-5th grade)
1:30-3:00 pm PST (90 minutes) (Kindergarten-2nd grade)
Who
Kindergarten through 5th grade
Price
Members: $100
Non-Members: $175* Non-Members Receive a Family Pass for 2 adults and 2 children to use before  December 31, 2021.* Information on how to reserve museum tickets will be included in camp confirmation materials sent by email. 
Camp Supply Shipping: $20 
Activity Kit Supplies and Shipping Information
Campers will need their Activity Kit supplies in order to participate in camp. Activity Kit supplies can be shipped for an additional fee of $20, per box (recommended). To ensure proper shipping time, the deadline for all shipping orders is Tuesday, June 15, 2021. 
There will be limited onsite Activity Kit supply pickup at the Natural History Museum of LA County (900 Exposition Boulevard, Los Angeles, CA, 90007) available on two dates only, Sunday, June 27 and Sunday, July 18th from 11 am - 1 pm. There is no additional cost to pick up supplies at the museum, though due to limited onsite pickup availability, shipping is highly recommended.  
ACTIVITY KIT SUPPLY PICKUP INFO (For Families who chose the Pickup Option):
Sunday, June 27 and Sunday, July 18  //  11am to 1pm at the Natural History Museum of L.A. County (900 Exposition Blvd, Los Angeles, 90007), see map below for designated pick-up location. No reservations are required for pick up. If you are signed up for more than one week of camp, you will be able to pick up supplies for any week for which you are registered. 
Our pickup location will be on Bill Robertson Lane near the Jean Delacour auditorium.  When you arrive, you will need to temporarily park on the curb alongside Bill Robertson Lane.  You will not need to get out of your car for pick-up, but you will need to share with us some camper information in order to expedite the process. Please provide us with your camper's class, grade level they were signed up for and name. For example, "My camper is signed up for Dinosaurs K-2 AM (morning). Her name is Marisol."    We will bring the supplies to your car, and you will be good to go.