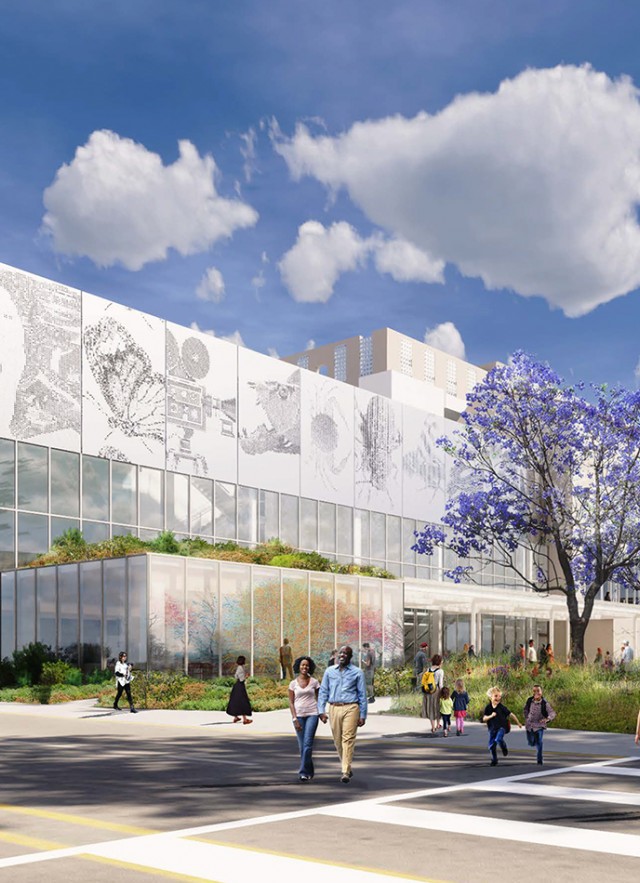 Making NHM Commons a Reality
On March 31, the Los Angeles County Board of Supervisors approved the NHM Commons Project as part of future plans for NHM, the anchor of Exposition Park. The NHM Commons project encompasses 75,000 square feet of renovated space, new construction, and landscaping on the southwest side of its Exposition Park home. The transformative project is designed to offer an inviting, transparent "front porch" to the NHM campus, create a free welcome center, provide a new state-of-the-art theater and multipurpose space and increased exhibition spaces, and expand NHM's broad-based programming. In light of the current health crisis and economic uncertainties, no schedule has been set for groundbreaking or construction for this longer term project.
The Los Angeles County Board of Supervisors has committed $30 million to support the $60 million NHM Commons project, and additional support includes $9 million from the State of California and another $15.5 million in commitments from foundations and individuals. Two individual donors stepped up with lead gifts of $5 million each: the Annenberg Foundation to name the Wallis Annenberg Lobby, and the Perlstein Family to name the Judith Perlstein Welcome Center. Additional support was received from the Kenneth T. and Eileen L. Norris Foundation, and three anonymous donors. 
A centerpiece of the Welcome Center is the mural by Chicana artist Barbara Carrasco, L.A. History: A Mexican Perspective. The 80-foot-long painting, recently acquired by the Museum from the artist, was commissioned in 1981 by Los Angeles's Community Redevelopment Agency. After it was done, Carrasco was asked to remove scenes deemed too controversial and when she refused, the mural went into storage. NHM last year became the first museum to show the full length of the mural in a special exhibition. Visitors, she hopes, will come away with a sense of pride that their history is very rich. The acquisition of Carrasco's mural from the artist was made possible by a grant from the Vera R. Campbell Foundation and the mounting and presentation of the mural was supported by Nancy and John Edwards. Read the press release for the acquisition here.
"NHM is a wonderful place for my mural to be viewed as a permanent visual testament to the struggles and successes that the diverse communities of Los Angeles have experienced," said Carrasco. "I have been looking for a home for this mural for many years. The Natural History Museum of L.A., where I came as a little girl, is the perfect home for it."
 
Watch a video in which artist Barbara Carrasco reveals the backstory behind her mural.
Read a press release about the NHM Commons project.
Top image: Rendering of NHM Commons, a new community hub for exploring nature and culture and "front porch" for the Natural History Museum of Los Angeles County facing Exposition Park. Rendering by Frederick Fisher and Partners courtesy of NHMLAC.