Center for Nature and Culture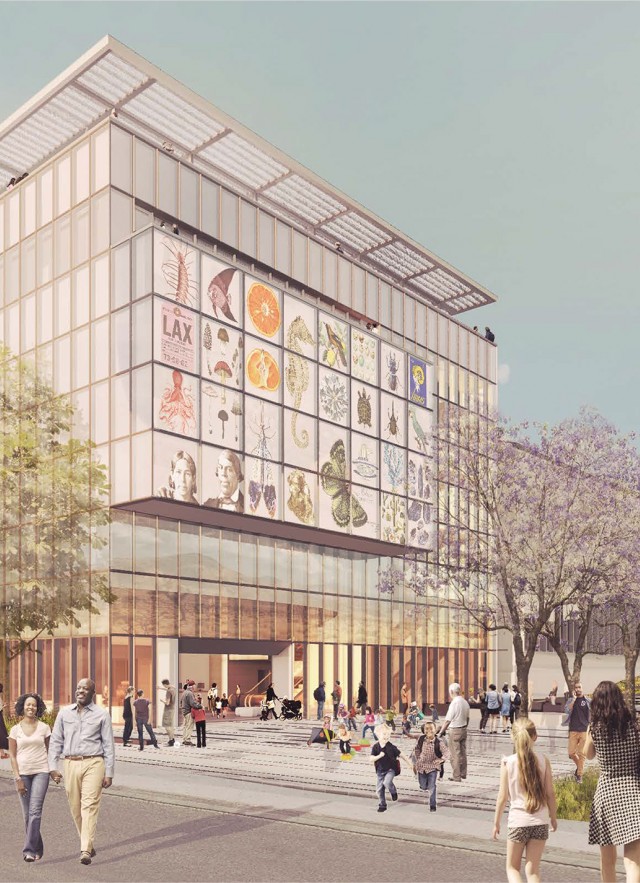 Building Our Future 
We are moving forward on a bold enterprise that will further transform our museum. We are currently completing the design for a new building project—the Center for Nature and Culture—that will put a fresh face on NHM's western wing. The project, designed by Los Angeles architect Frederick Fisher, will feature natural and cultural treasures from our collections and beautiful new spaces to host traveling and temporary exhibitions.
This is all part of a dramatic renaissance of Exposition Park as a hub for culture, natural history, and science. We are setting the stage to build our "new front porch," which will be the anchor for this culturally rich L.A. neighborhood.
In our new building's Welcome Center, visitors will be met by a mounted skeleton of a sauropod dinosaur that lived 150 million years ago. Guests can explore the Welcome Center without a ticket.
A new, flexible 400-seat theater can host performances, screenings, and education programs for everyone—so that we can continue to become a hub for exciting and accessible events. 
The see-through building materials and all of the natural light lets people see in, and even when they're inside, they'll feel connected to the park outside. 
We want people to have choices: they can stay outside (and still see some of our collections), or come on in. They can be social, or explore alone. This is a place with options and opportunities for everyone. 
 
The new amenities and features, including cafe areas and rooftop gardens, will provide a place to rest and enjoy nature—and an incredible view! It's no longer about rushing through the exhibitions and hitting the road—it's about relaxing and connecting with your friends and family, in a cool, new Exposition Park neighborhood.